2010

---
Winner

Jacqueline Lyons
Progress of The Seasons
Selected by Joel Brouwer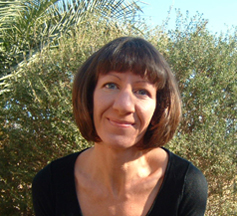 Jacqueline is the author of the poetry collection The Way They Say Yes Here (Hanging Loose Press, 2004) and the chapbook Lost Colony (Dancing Girl Press, 2009). Her nonfiction has been nominated for Pushcart Prizes and cited in Best American Essays. She has received a National Endowment for the Arts Poetry Fellowship, the Peace Corps Writers Best Poetry Book Award, the Indiana Review Poetry Prize, a Utah Arts Council Award, and a Nevada Arts Council Fellowship in Nonfiction. Her poetry and essays have appeared in literary journals AGNI, Barrow Street, Bellingham Review, Colorado Review, Sonora Review and many others, and her work is featured in the poetry anthology Oh One Arrow (Flim Forum Press, 2007). She is a certified instructor of Ashtanga Vinyasa Yoga.




Winner

Henry Israeli
Praying to The Black Cat
Selected by Erica Goss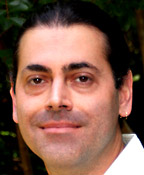 Henry Israeli is the winner of the 2009 Del Sol Press Poetry contest. DSP will work with Web del Sol to vigorously promote Henry's collection. Henry's former books include New Messiahs (Four Way Books: 2002) and, in translation, Fresco: the Selected Poetry of Luljeta Lleshanaku (New Directions: 2002) and Child of Nature (New Directions: 2010). He has been awarded fellowship grants from the National Endowment for the Arts, Canada Council on the Arts, and elsewhere. His poetry and translations have appeared in numerous journals, including Grand Street, American Poetry Review, The Iowa Review, Quarterly West, Tin House, Fence, Verse as well as several anthologies. Henry Israeli is also the founder and editor of Saturnalia Books. He lives in the Philadelphia region with his wife and daughters.


---

Winner and place as follows:

PRAYING TO THE BLACK CAT
Henry Israeli

THE MOON SPEAKS
Hailey Leithauser

THE URN GARDEN
Frannie Lindsay



Winner
Lisa Suhair Majaj, Nicosia, Cyprus
Geographies of Light
Selected by Martha Rhodes



Lisa Suhair Majaj was born in Hawarden, Iowa, raised in Amman, Jordan, and educated in Beirut, Lebanon during the war years. After evacuating out of Beirut in 1982, she lived in the US for 19 years before moving to Nicosia, Cyprus in 2001. A poet, writer and critic, she has published poetry, creative non-fiction, academic articles and reviews in a wide range of journals and anthologies, and in two poetry chapbooks. She has also co-edited three collections of critical essays: Going Global: The Transnational Reception of Third World Women Writers; Intersections: Gender, Nation and Community in Arab Women's Novels, and Etel Adnan: Critical Essays on the Arab-American Writer and Artist. Currently, she is co-editing an anthology of Arab-American literature that spans over a hundred years. Her writing has been translated into several languages and has been used in artistic and political forums as well as in more conventional venues. She has read her poetry across the U.S. and in Bahrain, Germany, Cyprus, Jerusalem, and Jordan.
Finalists
Wendy Barker: Nothing Beween Us, The Berkeley Years
Yago S. Cura: SPICARESQUE
Cifford Paul Fetters: Persons
Lisa Lewis: Travel Plans for Social Outcasts
Peter Moore: The Metaphysical Slot Machine
Biljana D. Obradovic: Little Disruptions
S. Quinlan: Tourist
Doug Ramspeck: Job Rides the L Train
Lynn Sadler: For Ambidextra, the Tenth Muse
Bonnie Stanard: HER and HIM, The Ambiguities of and
Michael Steffen: Indulgences
About the Judge

Martha Rhodes is the author of three collections of poetry: Mother Quiet (Zoo Press, 2004), Perfect Disappearance (winner of the 2000 Green Rose Prize), and At the Gate (Provincetown Arts Press, 1995). Her poems have appeared in Agni, American Poetry Review, Fence, Ploughshares, and TriQuarterly, among other journals and in many anthologies including The Extraordinary Tide: New Poetry by American Women, and The New American Poets: A Bread Loaf Anthology. She teaches at Sarah Lawrence College and in the MFA Program for Writers at Warren Wilson College. She is the director and founding editor of Four Way Books, a literary press based in New York City.




Ascension Days
Poems by David Blair
Selected by Thomas Lux

ISBN: 978-0-979150-15-9
Purchase at Amazon.com

"What a strange and intense book this is! David Blair has a wild, restless imagination and he uses language like saw, a hammer, a velvet whip. He can write incredibly tender (and original) love poems and enfilading satirical poems, as well as many of the many other 'kinds' of poems between those poles, and they all seem entirely at home, indeed, need to be in this book together. His music, his diction, his refusal to use (ever!) cliches, his syntax all drive his poems and their hearts forward. That is where his poems go: forward. He will be in the company of the best poets of his generation." —Thomas Lux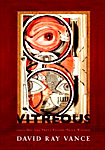 Vitreous
Poems by David Ray Vance
Selected by Mary Jo Bang

ISBN: 978-0-9791501-0-4
Purchase at Amazon.com

Winner of the Del Sol Press 2005 Poetry Prize, David Ray Vance's poetry collection combines science and art gloriously. Mary Jo Bang, the Prize Judge, has this to say about Vitreous: "Part rewritten 1934 medical text, part Keatsian reflection, this is the logical offspring of the long-awaited meeting of science and art; a marriage of equals where each half maintains its primary allegiance: the poetic to the common lyrical language of emotion and memory, the medical to its narrowly appropriated lexicon of intraocular, cornea, and Placido's disc. Mr. Vance has woven these two competing word streams into a meditation on sight and risk. Think of it as an item in the cupboard of the scientifically sublime. Think of Ronald Johnson's Ark. Vitreous is utterly fascinating in its reach, and exquisitely tender. And important, because it answers again today's recurrent question, Can form be further broken and still be a poem? The answer (of course) is yes."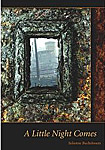 A Little Night Comes
Poems by Julianne Buschsbaum
Selected by Reginald Shepherd

ISBN: 978-0-974822-96-9
Purchase at Amazon.com

In a fierce landscape, these poems—violent and lovely, transcendental and desperate— jar us into new senses ... And further, "In Julianne Buchsbaum's dense, laconic poems, poise solicits passion and urgency courts elegance. Her rich, lucid, alliterative lexicon, full of apt surprise and happily astray amid the glitter of evidence, makes a dictionary of the small parts of world and the larger parts those parts make ('some country / we were meant to wake into'), 'And love is never far from the parted lips, in all its errors and ecstasies." —Reginald Shepherd